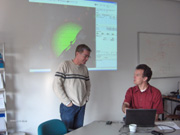 The Orthopaedic Surgical Research Group is doing clinical research on a considerable number of patients every year.
The group commands specialist knowledge in the testing of new treatment strategies and methods.
Currently, the research group is doing 25 randomized studies with Aarhus University Hospital as the central organizer. We have gained great experience in imaging modalities including radio stereometric analysis (RSA), DEXA scanning, DEXA scanning, gait analysis, ultrasound, CT, PET-CT and MRI.
At the Clinical Department at Aarhus University Hospital, Tage-Hansens Gade two full-time laboratory technicians are taking care of the analyses and the co-ordination.